Somewhere at the intersection of Pac-12 sports and David Stern is this particular forgotten 2013 scandal: Ed Rush forced to resign after bounty comments. Ed Rush was the head of basketball officiating for the Pac-12. Before a game he told a group of officials that he was putting a bounty out to reward whomever would call a technical foul on Arizona head coach Sean Miller. There was indeed a dubious technical called in the next game. Word got out about the bounty, and Ed pulled out a very old excuse:
Absolutely, 100 percent said in jest… wrong place, wrong time, wrong audience.
It was in jest! I never meant for my subordinates to take this order seriously. (This despite him reportedly giving the order in such anger that he threw a sandwich at the head of one of the refs in the meeting.) "It was in jest" may ring a bell with the David Stern quote we found in part 2. (It may also ring a bell with stories of strongmen and plausible deniability back to at least Henry II and Thomas Beckett.) We can't say exactly what the antecedents of Ed Rush's actions that time were. We don't know what lead him to threaten and corrupt his officials or when he decided to manipulate games with bounties for spurious fouls.
But we do know that Ed Rush was an NBA ref for 32 years. Ed Rush was the NBA head of officiating from 1998-2003. And Ed Rush is from Delaware County, Pennsylvania.
A big caveat before I go further: First, I was clued in to the Delaware County insanity by the excellent podcast "Whistleblower," about the Tim Donaghy scandal. If this Stern stuff is at all of interest you should first go listen to that in its entirety. They touch on it in episode three, "Timmy and Tommy." Obviously the Donaghy episode is one of Stern's worst moments, and they go into it in great detail. I'm going to focus here on a few facts surrounding some of the minor scandals around refs that lead up to Donaghy. There's so much material I've been trying to figure out out how to present it. At the risk of being slapdash let me just get some building blocks down.
Delaware County
is a collection of suburbs near Philadelphia (think Mare of Easttown) where a disproportionate number of NBA referees come from. Those refs tend to be white Catholics deeply tied into the region's Catholic high school and amateur sports scene.
This is the list of DelCo refs identified by Whistleblower, along with their dates of NBA service.
Jake O'Donnell 1967-1995
Ed T Rush 1966-1998, director of officials 1998-2003
Joey Crawford 1977-2015
Steve Javie 1986-2011
Tom Washington 1991-present
Mark Wunderlich 1990-2010
Mike Callahan 1990-2019
Ed Malloy 2002-present
Mark Lindsay 2007-present
Aaron Smith 2015-present
Mendy Rudolph 1953-1975
Earl Strom 1957-1990
Bill Oakes 1977-2000
Tim Donaghy 1994-2007
When you read a few of these DelCo ref profiles there's a certain Manchurian Candidate quality to them. Jake O'Donnell apparently got to the League by "writing to the NBA and asking them for a tryout." (Delaware County Daily Times, Jan 19, 1968)
Here's the Philadelphia Daily News talking about hometown boy Ed Rush in 1980:

I would believe the old Eastern Basketball League, actually. It comes up a lot.
Mendy Rudolph
is the patient zero of the DelCo influx. His father was head of the Eastern League and his brother ran it at one point as well. (Incidentally the Eastern League was the precursor to the now-defunct CBA, but all the teams were in Pennsylvania.) By the late 1960s Mendy rose to be the NBA's top official and had a lot of hiring influence.
Mendy's wikipedia page is worth a click. "Gambling problem" is item 1.2. His compulsive gambling was an open secret, but that didn't prevent him from being named "head of officials" in 1966. This Ira Berkow piece from 1992 is truly wild. This is his wife narrating 13 years after his death:
But they had, she said, "a roller coaster affair." And gambling was often at the center of their travels, from race tracks to the casinos in Las Vegas and Puerto Rico. And some of their numerous breakups were over his dependence on gambling, and his lost weekends. "Once I called the Dunes Hotel in Vegas and had him paged," she said. "I was angry and hadn't heard from him and only guessed he might be there. He picked up the page. 'You're sick, do you know that?' I said. 'You're sick.'

"The Temptations of a Man of Integrity", May 31 1992
Despite the open secret that he was a gambling addict the only thing that kept him off the court was a pesky blood clot, which forced his retirement in 1975. The angle on this (sympathetic) piece is that Mendy was too much of a man to declare bankruptcy or throw a game.
"Mendy was so full of life that it's hard to believe he's dead," she said. "But I believe he died of anguish, of trying to pay back all his gambling debts and the money he owed the I.R.S. He was gambling relatively little at the end of his life, though he still loved to go to the OTB. He'd take Jennifer there and tell her they were 'going to the bank.' But he still owed a lot, and was too proud to declare bankruptcy.

ibid
Reading this in the current day I would say that living with an untreated addiction sounds like a pretty big source of anguish too. Dragging your young daughter along to the OTB? Imagine reading the story of an alcoholic that ends with: "He wasn't drinking that much at the end of his life, though he still loved to have a few beers at the dive bar. He'd take Jennifer there and tell her they were getting 'Daddy's medicine.'"
Anyway that's your NBA head of officials, DelCo Pied Piper and godfather to all the Eastern League alums and their kin that made up such a huge chunk of NBA refs.
Back to that Eastern League. Some of the structural reasons for the DelCo dominance are lurking in this map:
The one credible professional minor league alternative to the NBA was a mostly-Pennsylvania affair. So when the NBA went looking for pro refs their one source was naturally dominated by the major population center in Pennsylvania. Why didn't they just recruit college refs from the massive national college basketball infrastructure? Some color from a throwaway comment in Donaghy's book:
Occasionally the NBA would pluck a top referee from the college ranks, but those guys can make more money than a first-year NBA ref so it was hard to convince them to leave their jobs.

Personal Foul by Tim Donaghy, chapter 4
As late as 1990 the NBA was still known for cheapness in paying its refs contra the college basketball establishment. It was even more so in the 1960s, and then the natural cartelization and nepotism took over. Donaghy himself was the nephew of an NBA ref. One outsider who was tried for years to get in on merits is
Dick Bavetta
the ref thought to be Stern's company man. After a remarkable run culminating in the infamous 2002 Western Conference finals Game 6 he became widely "known" as the NBA's "fixer," extending series to serve the league's purpose of creating better large market television matchups. Donaghy's book confirmed this with remarkably specific detail about a non-playoff game encounter:
Is Donaghy reliable here? It's pretty clear that Donaghy lied in his book and continues to lie about never fixing games. (He claims he only used "inside information" to make picks.) I feel obliged to add that according to basketball-reference.com, Bavetta did not work either the 1992 or 1993 Cleveland-New Jersey playoff series. There is confirmation that Bavetta and Donaghy were together for the Spurs-Nuggets 2003-2004 season finale.
The most pointed thing Bill Simmons ever wrote is this recap of the 2002 playoffs. I'm somewhat surprised it's still up.
If you examine the last four NBA playoff campaigns, during every situation where the league definitively "needed" one of the two teams involved to win — either to A) change the momentum of a series so it didn't end prematurely, B) keep an attractive, big-market team alive in a series, or C) advance an attractive, big-market team to another round — the officiating appeared to be slanted towards the team that needed that game. I use the phrase "appeared to be," because reviewing an official's performance is purely subjective. Maybe I'm dead-wrong.
These were just the games that jump out in my mind (again, I could be wrong):
1999, Knicks-Pacers, Game 3 … LJ sinks a game-winning four-pointer (called a continuation foul by referee Jess Kersey even though LJ was fouled a full second before he released the ball).
1999, Knicks-Pacers, Game 6 … Knicks last chance to close out Indy before the series shifts back to Indiana for Game 7 … they get every call.
1999, Spurs-Knicks, Game 3 … down 2-0, the Knicks get every call in their first home game and win their only game of the series.
2000, Knicks-Heat, Game 7 … Knicks advance to the conference finals … falling out of bounds, Latrell Sprewell awarded a timeout by referee Bennett Salvatore with 2.1 seconds left even though none of the Knicks called for one … Sprewell admits after the game that he hadn't called a timeout … the Miami players chase the referees off the court after the game, yelling that they had been robbed … after the game, Jamal Mashburn tells reporters, "They had three officials in their pocket" and Tim Hardaway refers to referee Dick Bavetta as "Knick Bavetta."
2000, Lakers-Blazers, Game 7 … LA shoots 21 more free throws and rallies back from a 17-point deficit in the final seven minutes … Shaq plays an illegal defense down the stretch, undaunted … Rasheed Wallace absolutely gets manhandled down the stretch, yet doesn't get a single call … up by four with 25 seconds left, Shaq body-blocks Steve Smith out of bounds and the refs don't make the call (the most egregious non-call in recent memory).
2002, Celtics-Nets, Game 4 … Celts up 2-1 … the Nets are inexplicably allowed to push and shove Kenny Anderson and Pierce while they dribble the ball … a number of head-scratchers go against Boston, including three offensive charges down the stretch … four different "bull-(bleep)" chants during the game.
2002, Lakers-Kings, Game 6 … LA needs a win to stay alive … from an officiating standpoint, the most one-sided game of the past decade … at least six dubious calls against the Kings in the fourth quarter alone … LA averaged 22 free throws a game during the first five games of the series, then attempted 27 freebies in the fourth quarter alone of Game 6 … rumors that David Stern wanted to pull a Vince McMahon and declare himself "The special guest referee" for this game prove unfounded.
By the way, I would feel remiss if I didn't share this information: Dick Bavetta was assigned to every one of the above games.

Bill Simmons on ESPN's Page 2, June 6, 2002
I believe there is yet another game in that timeframe that needs a look: 2001 Eastern Conference Finals: Milwaukee/Philadelphia. Philly is the "money" team with the bigger market and the bigger star (Iverson). They have home court but Milwaukee steals one there. The series went back to Milwaukee and the Bucks won at home to go up 2-1. If Milwaukee holds home court they'll have a 3-1 advantage and a very strong chance of making the Finals. But they don't win game 4. They lose a tough home game 89-83 where the Sixers shoot way more free throws. That was the only game of the series Dick Bavetta worked. Philadelphia goes on to win the series in 7 as home court holds the rest of the way.
Incidentally in all these games we can now look back with the advantage of 538's complete NBA Elo project. In every case the "wrong" team won. That is, the results contradict the fine-grained Elo prediction.
Dick Bavetta's life story is very interesting. He was born and educated in New York, a working-class Brooklynite who got a job on Wall Street but couldn't contain his love for refereeing.
Bavetta's […] refereeing career […] never would have taken off if not for the advice of his older brother, Joe, an official in the ABA and the Eastern League who also worked Wall Street League games in downtown Manhattan, where Brooklyn-born Dick began refereeing as he was embarking on a career in the finance industry on the trading desk for the brokerage firm Salomon Brothers. Joe's contacts included Harry Rudolph, the father of former NBA ref Mendy Rudolph, and he helped brother Dick get the gig working his first professional game in 1966, New Haven versus Hartford in the Eastern League.

At 66, Bavetta to break record for most games refereed by Chris Sheridan, espn.com
So there is a Mendy Rudolph – Dick Bavetta connection. And Dick Bavetta is another Eastern League alum, despite not being from DelCo.
But it's also safe to say as a public school striver who cracked the Manhattan business world Bavetta has a shared cultural space with David Stern. (Stern's father was a Manhattan shopkeeper, Bavetta's was a Brooklyn cop. Stern became a white-shoe attorney, Bavetta a Salamon Brothers trader.) Bavetta entered the league as a ref around the same time Stern begins his NBA front office tenure.
There is also the section in his wikipedia titled "Altercations with Earl Strom." Apparently Strom brawled with him on at least two occasions, one of which involved a game-deciding call that Bavetta made against the 76ers. (Idea for future research: Philadelphia 76ers performance in games with DelCo crews.)
Dick Bavetta, a New York outsider bitter about being kept out of the NBA for 10 years who only got in once Mendy Rudolph retired, had a feud with DelCo godfather Earl Strom. So it's also possible there is bad blood between the abstemious New Yorker (Bavetta) and the DelCo good time Charlies. (Although Donaghy doesn't mention anything like this in his book.)
was a torturously drawn out investigation in the 1990s by the IRS and the US Department of Justice. Many NBA refs (perhaps as many as 50) were underpaying their taxes. Some reached the level of procuring false invoices and submitting them to the IRS. 11 plead guilty. Some served house arrest. One was convicted at trial. All kept their jobs as NBA refs.
The actual scam is a two-bit DelCo chisel all the way: refs were entitled to first-class airline tickets when their travel requirements met a certain criteria. They figured out that they could cash in the tickets to the airlines, buy coach tickets and pocket the difference. The NBA knew and didn't care, but as anyone who's lived in this country for the last 100 years should know: if you realize a cash win the IRS wants its cut. What seems to have raised it to the level of a criminal prosecution were the lengths some refs went to:
This is actual fraud: finding a third party willing to falsify documents that are then submitted to the government in order to retain money that should be paid as tax.
If you run a sports league and you endeavor to present the appearance of fair games played under uniform rules and some of your employees entrusted with enforcing those rules plead guilty in Federal Court to lying, fraud and cheating on their taxes… those people have to go! Firing them is the first step in retaining the public's trust. There might still be more to do.
Of course that's just me being silly; David Stern did no such thing. The government's prosecution took a few years, so all the charges played out slowly. They were all fired pro forma when they plead guilty but just as quickly they were reinstated. As it happened the 1998 NBA lockout was going on at the time of reinstatement and the media's attention was elsewhere. I can find lots of headlines here and there as the refs were sentenced but I can't find a single piece asking or explaining why they were all reinstated. As for someone asking David Stern on the record if he ever thought of permanently parting ways with the convicted tax fraud crew… I couldn't find it.
There were plenty of puff pieces about what good people all the offenders are, however. This is a great "keep it local" lead: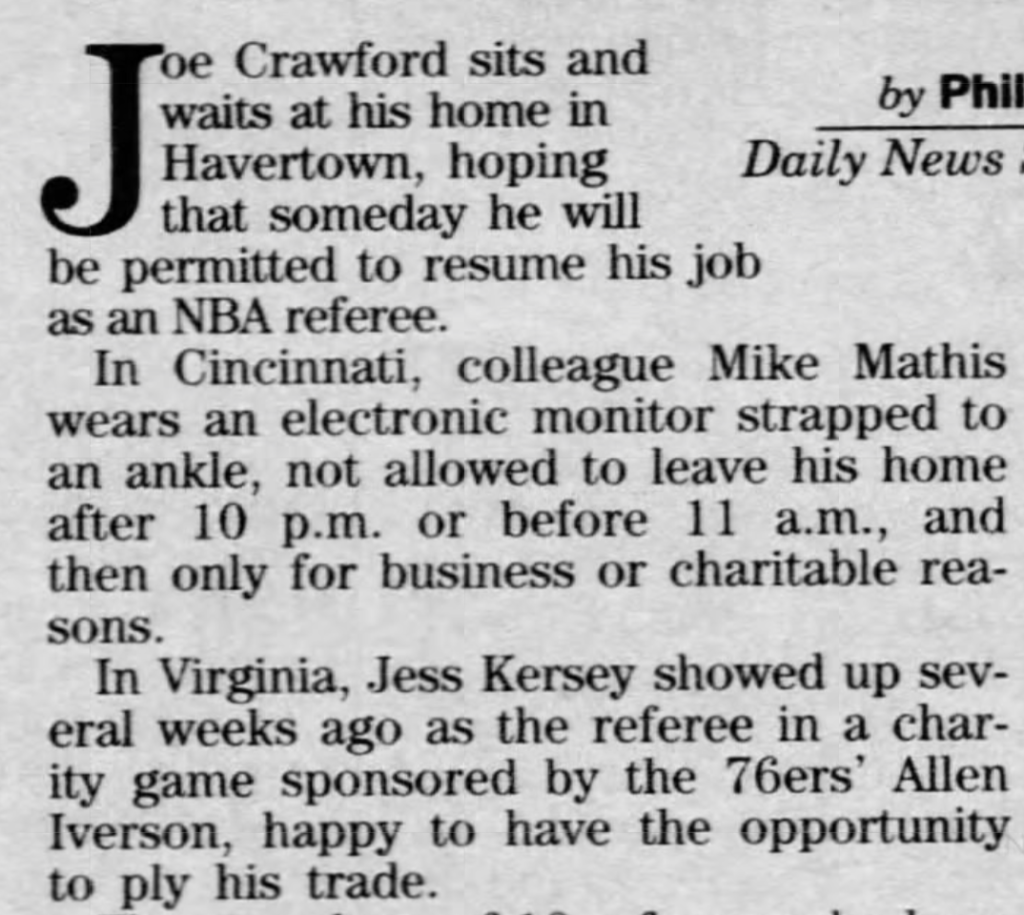 Havertown is, of course, in Delaware County.
Home Court Advantage
is most pronounced in the NBA of all the major sports. As Brian Tuohy has pointed out in his books, if you are looking for proof that sports are not completely on the level you need look no further than home court/field advantage. It's been a part of our assumptions for so long we hardly question it when outcomes differ depending on which team's fans paid for the seats.
One development in recent years with more thorough record-keeping and statistics is that we now know that home court advantage stems almost entirely from ref bias. The players are not intimidated by the crowd, but the refs and umpires are. Shooting doesn't suffer on the road, but more fouls are called against road players.
Here is Tuohy in The Fix Is Still In (2019), summarizing the latest research on HCA from the book Scorecasting by Tobias Moskowitz and L. Jon Wertheim:
Remember, Home Court Advantage is magic fairy dust for "happier" fans and longer playoff series. With the NBA's historical 100 Elo points of Home Court Advantage (3+ points on the floor), playoff series are at least half a game longer on average than they would be if things were even. Sweeps are 20% less likely.
Institutions are bigger and more stable than the individuals they contain.
This may seem tautological but it remains hard for people to apply in the face of particularly important-seeming individuals. No one "big man" is bigger than the show. In a way that's what this whole David Stern debunking is about: he was just there, he wasn't the author. Barry Bonds retired after the greatest offensive run in baseball history and the Giants won one more game the next year. Good teams lose their top performer and do just as well or better all the time. (Please don't make me say "Ewing Theory.") Steve Jobs was the "key man" to end all key men and without him Apple has sailed along, doubling and redoubling its value. Good teams are good teams for lots of reasons, and most of those reasons are still present when one member of the team goes down.
The converse is also true: institutions tend to rationally, if heartlessly, crush and shed individuals in pursuit of the larger goals. HR is not your friend. The big org takes care of itself and perseveres. We are surrounded and controlled by institutions that have spanned and absorbed many human lives.
That is why I am always struck by situations where the institution appears to hobble itself in defense of an individual who appears completely disposable. In Washington one sometimes sees the party rally around a dysfunctional senator in a safe seat or a deeply flawed nominee. "They can fill it with one of their own," I think. "Why not just get another weirdo?" But we have to accept that this is showing us some larger truth about the institution's priorities. The group intelligence thinks this one battle is so important to its continued existence and success.
With that in mind let's consider the aftermath of the plane ticket scandal.
What happened?
The state of the officials was one place where Stern did inherit a mess: an underpaid and ill-trained pool of nepostisically-hired hacks dominated by weird cliques like the DelCo bunch. But rather than clean house or gradually improve he left it alone in an act of malign neglect. Why? The emergent behavior that this bunch produced was useful, in that the collective incompetence and biases produced general results that were revenue-friendly.
Then, eight years into his reign, the chickens come home to roost: the penny-pinching hustlers have been caught cheating on their taxes. Rather than cauterize the wound there he lets it play out over the rest of the decade as guilty plea after guilty plea plays out. Finally in 1998 the sad chapter is done and the 11 guiltiest have resigned. Rather than taking the wakeup call then he simply hits reset and welcomes everyone back. Most never missed a game. Why not just fire these guys? Why run the risk of having criminal cheats out there on the floor as the face of second-to-second rule enforcement?
It's 1998, after two Jordan three-peats, two runs of the Dream Team and all the "Last Dance" NBA-triumphant narrative we've all internalized. Can you imagine looking around at that point and saying "I'll never get anyone to ref in the NBA, might as well stick with these convicted tax fraudsters." Whatever the pay and recruitment problems of 1966 it's madness to think that there wasn't a chance to bring in some actual high performers in 1998.
The tax-cheat refs weren't retained because they were so good, they were retained because they were so bad. It was the devil he knew. The golden goose was built on the backs of their predictable weak-willed shoddiness and well-tuned deference to stars.
He figured he could skate through it and he was right. The media never gave it a second thought except to buy into the "noble wronged refs" line. The fans forgot once the lockout ended. All was well. But the refs remembered. There was no wakeup call, no comeuppance. Detailed analysis suggests Donaghy started fixing games a few years later, in 2003. (It might have been as late as 2006.) In fact one of the clearest descriptions of the airline scandal is in Tim Donaghy's book. It is particularly interesting how many of the guilty refs not only kept their jobs but were promoted to positions of authority:
Donaghy implies that one of the reasons he's sticking to his "I never fixed games" lie is that he thought he might be reinstated after the FBI investigation into him was complete!
After all, the NBA already knew about his golf gambling and casino visits. One surreal episode in Donaghy's book involves a very DelCo incident of being snitched out to the NBA about his gambling by an ex-golf buddy neighbor who was was mad at him over some trees getting cut down. This is all well before the actual game-fixing bubbled up. (Donaghy told them it was no problem because he was moving to Florida and they let him slide.) What would it have taken to get fired as an NBA ref? (Sadly the answer is probably "calling traveling by the book against the home team.")
Coda
Who were the three referees working the famous "Malice at the Palace" game in 2004?
Tommy Nunez Jr, son of long-time ref Tommy Nunez. He was hired via nepotism of course and eventually fired for incompetence after the 2010 season.
Ron Garretson, son of long-time ref and supervisor of officials Darrell Garretson. Ron was hired via nepotism when his father was in charge of all officials. He eventually left the job in 2019 although it seems to be a normal retirement.
Tim Donaghy. Also a nepotism hire. Also he was Tim Donaghy.
Quite an incompetent overmatched bunch just the like the referee pool at large. Red flag after red flag comes and goes and Stern calmly stays the course. If you scratch the surface of this apparently unforeseeable and unfortunate incident you see its roots came from allowing these compromised ref teams to be put in charge of NBA games over and over again.
---
I believe that Bavetta is a fixer. I'm sure I haven't convinced the most skeptical. Maybe it's just because I want to believe even more after immersing myself in clipping after clipping of sordid ref stories. Bavetta came through as the most refreshing character. His jet-black conspiracy with Stern is a welcome whiff of brimstone compared to the beer stains and betting slips of sad and dreary DelCo. Dick Bavetta limited himself to one ice cream cone per year (the day after the season ended.) Dick Bavetta gave up a lucrative seat at Salomon to ref in the NBA. Dick Bavetta is a paladin amidst an army of provincial looters. Dick Bavetta didn't cheat on his taxes. He had his own fraud to pull off and his own battles to fight. Year after year, the only losers were all of us.