We're back with more results from the 1950s. 1951 really stands out. The University of San Francisco won the title going 5-0. Here is the verbose run:
$ python3 ./mcc_schedule.py -v -s 1951 -e 1951
San José State 2 at San Francisco 39 on Sep 20, 1951
Santa Clara 0 at California 34 on Sep 21, 1951
San José State 13 at Stanford 26 on Sep 28, 1951
Loyola Marymount 28 at Pacific 41 on Sep 28, 1951
Santa Clara 17 at UCLA 44 on Oct 05, 1951
San Francisco 42 at San José State 7 on Oct 11, 1951
UCLA 7 at Stanford 21 on Oct 12, 1951
Loyola Marymount 16 at Santa Clara 20 on Oct 12, 1951
USC 21 at California 14 on Oct 19, 1951
Santa Clara 14 at Stanford 21 on Oct 19, 1951
Loyola Marymount 13 at San José State 12 on Oct 25, 1951
California 7 at UCLA 21 on Nov 02, 1951
Santa Clara 7 at San Francisco 26 on Nov 03, 1951
Stanford 27 at USC 20 on Nov 09, 1951
San José State 7 at Santa Clara 7 on Nov 16, 1951
San Francisco 47 at Pacific 14 on Nov 16, 1951
Pacific 0 at San José State 7 on Nov 22, 1951
California 20 at Stanford 7 on Nov 23, 1951
UCLA 21 at USC 7 on Nov 23, 1951
Loyola Marymount 2 at San Francisco 20 on Nov 24, 1951

1951 final standings

San Francisco           5-0
Stanford                4-1
UCLA                    3-1
California              2-2
USC                     1-2
Pacific                 1-2
Loyola Marymount        1-3
Santa Clara             1-4-1
San José State          1-4-1

1951, 20, San Francisco, 5-0
In fact that team was so special there's a 2015 documentary about it that ran on ESPN:
Any time they make a network hour about a Mythical California Cup winner I have to watch it! Unfortunately it's not great. And most likely false in its details and conclusions. And possibly covering up some embarrassing details in its smug self-congratulation. But other than that it does have some good interviews. (The intersecting life stories of Ollie Matson, Burl Toler and Pete Rozelle are pretty amazing.)
This summary from the Paley Center is very accurate and concise. USF fielded an amazing team with three College All-Stars, two of them Black. They went undefeated but were not offered a bowl bid. The documentary presents the view that they were offered an Orange Bowl bid on the condition that they not bring their Black players and that the team turned it down in solidarity. Shortly after the season USF discontinued football.
Nitpicks first: At 36:07 the narrator says "The 51 Dons remain the only team with three players in the pro football hall of fame." I've only been writing a college football blog for three months and I had already highlighted a team with three HOFers! After some manual searching I found at least one more: 1979 Pitt had three in the Hall by 2010, well before the film was made. It's a small thing but it doesn't bode well for the general fact checking.
The film actually presents two contradictory accounts of the end-of-season shuffle. At around minute 25 it describes the team riding the train back home after their final regular season victory against Loyola. They thought there was going to be a crowd awaiting them with their bowl bid news. But there was no crowd and no bid. "The Orange Bowl had invited Baylor to face Georgia Tech." Then it immediately presents a slightly different version, allowing modern-day talking heads to take over saying how they actually were offered the Orange Bowl bid if they left the the Black players home. Somehow the coach found out about this modified offer and "he brought it to the players. It didn't even get to hierarchy!" The players' recollection is all abstract outrage and of course the bid is declined and USF doesn't go to any bowl.
Is it true? Possibly. Is the record as clear as it's made in the film? Absolutely not. The Orange Bowl organization denies it. No contemporary newspaper accounts mention it, and they did talk openly about race in college football. College football was still insanely racist in 1951. We're only 4 years after Jackie Robinson. The SEC would be segregated for another generation. (The first Black player to play for Alabama was John Mitchell in 1971. Not only is he still alive, he's still at work coaching for the Steelers. That's how long segregation lasted in the SEC.) Here's a clipping that week from the Los Angeles Evening Citizen News, December 5, 1951, openly discussing the Sugar Bowl banning Black spectators:
Jim Crow football policies didn't go politely unmentioned in 1951. They were front and center. Here's another clip from editor and columnist Rube ("Mr. Rose Bowl") Samuelsen in that same paper the day before: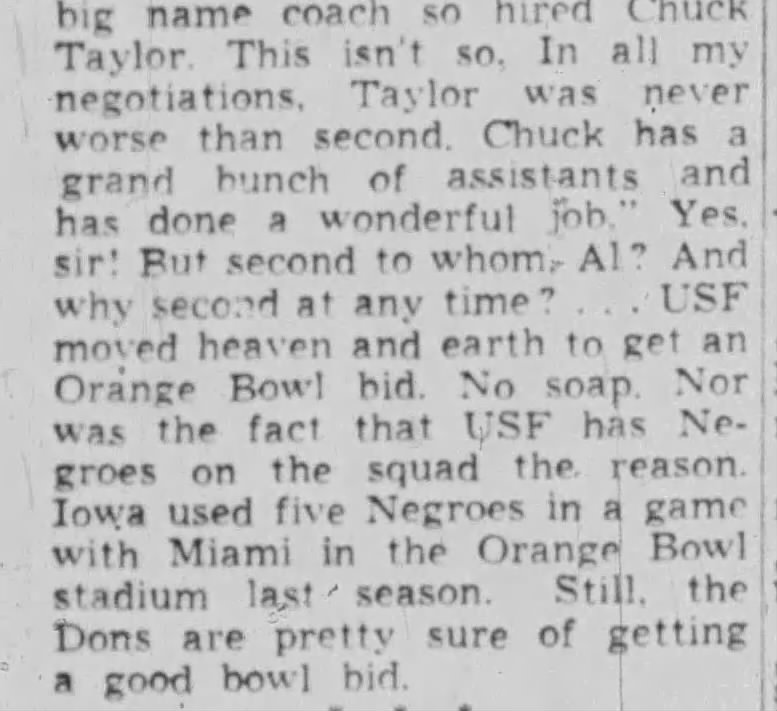 The idea that Black stars factored into the decision is broached but rejected because the Orange Bowl had already hosted integrated play by that time, according to the writer. That a Bowl would make an offer to a small independent team conditional on them not playing two stars (one an All-American) comes up nowhere. This next clip is from the Fresno Bee December 4, 1951, but reprinted from the San Francisco Chronicle. Here is the classic hometown sour grapes bowl bid column. You can see all the talking points on display. "We had a better record but they chose on schedule and money. This will destroy amateur sports. Etc. etc."
It seems hard to believe that if there was a juicy race-based conditional bid to throw on the fire that the columnist would have held back. So how bad was their schedule? Pretty bad. This is wikipedia's table:
| | | |
| --- | --- | --- |
| Date | Opponent | Result |
| September 21 | San Jose State | W 39-2 |
| September 29 | at Idaho | W 28-7 |
| October 7 | Camp Pendleton | W 26-0 |
| October 12 | at San Jose State | W 42-7 |
| October 20 | at Fordham | W 32-26 |
| October 26 | San Diego Navy | W 26-7 |
| November 4 | Santa Clara | W 26-7 |
| November 17 | at Pacific | W 47-14 |
| November 25 | at Loyola | W 20-2 |
Somehow they played 7 of 9 games in California and didn't face one of the four Pac-8 schools. None of their opponents were ranked, at the time they played them or in the final rankings. They played San Jose State twice! They played two military bases.
About the military bases: Starting in 1942 with widespread mobilization on the west coast there were so many college-age young men in various military camps that they fielded teams and played major college football. Wikipedia is full of amazing team summaries like The 1943 St. Mary's Pre-Flight Air Devils, which featured a Heisman Trophy winner and actually beat Cal that year. (They also played other ad-hoc teams like "Pleasanton Naval Distribution Center".) I'm still looking for the definitive reference on these teams but it seems clear that they were a phenomenon of World War II. For instance, Cal didn't play a military base after the 1945 season. Indeed San Francisco itself hadn't played a military base since 1945. It's unclear why they scheduled two in 1951, but it definitely would have looked odd to the rest of the country. The team that "got their slot", Baylor, played a loaded slate of SWC teams that would be recognizable today. (Texas A&M, Texas, Houston, Arkansas, etc.) Baylor's one loss was to a TCU team that finished the season ranked 11th nationwide.
In the film they have a one-line excuse for the schedule on the order of "everyone saw how tough they would be and wouldn't play them." Maybe? Was scheduling really done just the year before in 1951? (These days it's years and years out.) Just the year before they'd played both Stanford and Cal. It seems like there was something half-hearted about the institutional support for the team even before the season.
What happened next: USF cancelled football. The film presents this as a painful consequence of an ethical decision. The horns swell, talking heads stare off into the distance and the line "it's about doing what's right no matter the cost" is delivered in different ways. But in the written statement of the university president at the time there is again no mention of the ethical quandary. What he did say was "The game has become too much a part of the entertainment world, too great and costly a spectacle to be maintained."
The US was on the cusp of the new integrated sports world in 1951. USF had just reached new heights with a team with two dynamic Black stars recruited from the swelling local urban population. College football was about to become a new force for transforming Black lives. Then the university leaders shut it down and issued a fussy statement about spectacle.
If you're disgusted with the way the game is changing in 1951, what message exactly are you sending?
---
I ran a newspapers.com search for the 1981 obituaries of Joe Kuharich, the coach of that 1951 team. The New York Times wire obit by Dave Anderson has several paragraphs about that team and the Pete Rozelle connection but nothing about the purported refusal-of-conscience of the Orange Bowl. Same with a charmingly deranged Petaluma Argus-Courier remembrance full of local detail. ("Today just about everyone is physical fitness conscious, and as Don Ramatici stated, Kuharich was the greatest conditioner in football.") Kuharich coached three different NFL teams and Notre Dame in the two decades after 1951. He'd been talking with sportswriters all over the country for year and many of them wrote their own obits. I don't see any mention of the Orange Bowl conditional offer scandal.
Here's the most amazing account. Walt Roland, writing for the Allentown PA Morning Call, devoted an entire column to Joe Kuharich a few days after his death on January 29, 1981. Well he should, since Roland was a player on that 1951 USF team who became a reporter later in life.
The column includes many more details about Kuharich at USF and that 1951 season, including who Roland initially roomed with and all the press promotion work Kuharich did. It beggars belief that this Orange Bowl dilemma could have been put to Kuharich and the players and not be mentioned here, in this first person account. Burl Toler, one of the Black stars in question, was Roland's roommate.
---
In Bill James' Historical Baseball Abstract he has a section for every decade entitled "A Good Film Could Be Made About…" that highlights one interesting team or story. For 1950s California college football this 1951 USF team certainly is that story but "51 Dons" is not that film. A good film would take into account all the well meaning self-serving narratives as well as the differing accounts and denials from various sources. There's a Rashomon-style tale hiding here, or at least a very long-delayed truth. For me the most interesting part is the wistfulness when the interviewees discuss what might have been at USF if football had continued. The narrative of "we rejected them in the name of justice" strikes me as a retroactive attempt to find meaning in the University's decision more than the Orange Bowl's decision.