It's an inescapable fact of California (the state) football that the last time California (the school) went to a Rose Bowl was January 1, 1959. (There was some unpleasantness in 2004.) Since that 1958 season was something of a high water mark for Cal surely they must have won the Mythical California Cup that year right? Let's run it:
Pacific 24 at California 20 on Sep 19, 1958
California 14 at USC 12 on Oct 17, 1958
Stanford 21 at UCLA 19 on Oct 24, 1958
USC 29 at Stanford 6 on Oct 31, 1958
UCLA 17 at California 20 on Nov 07, 1958
San José State 13 at Pacific 26 on Nov 07, 1958
Stanford 15 at California 16 on Nov 21, 1958
UCLA 15 at USC 15 on Nov 21, 1958

1958 final standings

Pacific                 2-0
California              3-1
USC                     1-1-1
Stanford                1-2
San José State          0-1
UCLA                    0-2-1

1958, 8, Pacific, 2-0

Oh no, Pacific won it with a 2-0 record over Cal's 3-1. Let's take a detailed look and see if they deserved it. First game up is… Pacific upsetting Cal in Berkeley on September 19, 1958. Sad, sad bears. I dove into this game on newspapers.com to help answer the question of "Was Pacific really elite?" that came up in reviewing the early 1960s results. There are a few fascinating things that make it worth a deeper look.
Let's start with the combined QB passing stat line for Pacific's quarterbacks, according to the box score from the next day's Oakland Tribune: 1-5, 8 yards. They won with such non-production from QB because their rushing game was so strong, led by Dick Bass with 215 yards on 24 carries. Dick Bass was a phenomenal player that year for Pacific. He was named All-American and finished 8th in the Heisman voting. He turned pro the following spring and was selected as the number two overall pick (LA Rams) in the NFL draft. According to wikipedia he was the active NFL rushing yards leader when he retired ten years later.
But there was another player on the field who ended up with an even better 1958 (at least by Heisman voting tally): Cal quarterback Joe Kapp finished fifth and also was an All-American. Joe Kapp went on to a CFL career, then a stretch in the NFL with the Vikings, and was Cal's coach for a while in the early 80s. (Kapp gets internet-famous every now and then for his Sports Illustrated cover story that probably wouldn't run with the same title today.)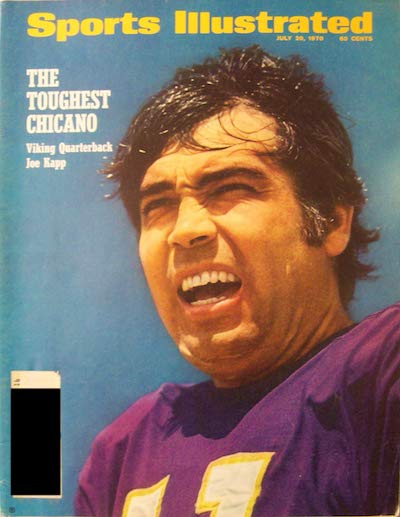 The immediate coverage from the Tribune was fairly serene. Yes it was a close, tough upset to an in-state team you'd love to beat, but Dick Bass was a local kid (Vallejo) playing on a big stage who had an absolute buzzsaw of a day that would not be denied. Here's the sports editor Alan Ward, writing on deadline:
Today's game proved many points, but three are worthy of mention. They are, and not necessarily in the order of their importance:

1. Dick Bass is an exceptional football player.

2. The California Bears, even though defeated, have an interesting, solid, and aggressive team.

3. The new rule permitting a try either for one or two points after touchdown adds rather than detracts from college football. "

Oakland Tribune September 21, 1958 p 54
Yes this was just the second week of two point conversions! It was added for the 1958 season so this was the first time anyone had seen it live. 60 years later that's a pretty solid set of takes.
The Sports Illustrated cover story about Kapp is reprinted here and it brings up some interesting notes. He was born in New Mexico in 1938 but grew up in Salinas and Santa Clarita. Dick Bass was born in 1937 in Mississippi but grew up in Vallejo. The massive migration of agricultural and factory workers to California in the late Depression and war boom years was a huge part of the athletic boom a generation later.
Frank Robinson was born in Texas in 1935 and grew up in Oakland. He was at the same Oakland high school with Curt Flood (born in Texas in 1938) and Vada Pinson (born in Tennessee in 1938). Those are just the star baseball players I know about because their story is so notable. I'm sure scratching the surface of these late 1950s California college football teams we'll find a lot of similar stories. California population went from 7 million to 16 million in the years 1940-1960.
The summary then: Pacific deserves its 1958 Cup, the game that won it for them was an instant classic and you could probably write a decent history of post-war California just by focusing on the players on the field that day in Memorial Stadium.